Hi Anja again on this Monday and the new start of a month. Can you believe it's August already?
Have you seen all those great dies at the last release aren't they awesome?
So for today's card I would like to focuse on some of them......
As I mentioned before I really liked all those great new dies for the last release so when I got them this weekend I had to play with them.
I tried to combine different dies in one card.
I started with a cardpanel from watercolor paper and white heat embossed the new color your polka cling stamp.
I watercolored all the polka dots with 5 different shades of distress ink.
I diecut a rectangle with the second biggest double stitched rectangle die and adhered the outline onto a topfolded card. The inner rectangle I placed onto the cardbase using some foamtape.
Then I diecut a tag with the lovely tags M out of some vellum and clear embossed the clustered leaves cling stamp.
Did the same on some vellum but this time I used white embossingpowder and fuzzy cut the leaves.
I adhered those leaves at the cardpanel and placed the tag over them.
Now I diecutted from some colored cardstock the little leaves and flowers from the pocket tag. I placed these onto the vellum clustered leaves and copic colored them. To give them more dimension I used a white gelpen.
The sentiment is white heat embossed onto some black cardstock.
To finish of the card I adhered some sequins and tied a ribbon at the tag.
Stamps;
Message in a bottle
,
Clustered leaves
,
Color your Polka.
Cool cuts (dies)
Double stitched rectangles
,
Lovely tags M
and
Pocket tag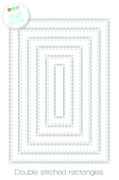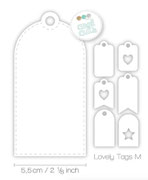 It's a new month so we have a new challenge please join in the fun we love to see what you all come up with.
Have a great week and see you next Monday,
Hugs Anja