I hope you liked our last new release as much as we all did and guess what we are on our way to another great new release in November, how time flies.
When I first saw this stampset I knew I had to make a card with it but when I got it I couldn't think of a design so I started with the background and then the card was build up rather quick. I just love these images.
As I mentioned before I started with the background. I used some watercolor paper and stamped the cling stars and scribbles stamp with watermark ink and white heat embossed it.
Smooched some distress ink onto a transparancy sheet and spritzed some water. I placed the heatset cardbase upside down onto the sheet and let the water, paper and ink do it's work.
I dried the paper with my heatgun and gave it another round onto the sheet.
Dried it again and took the dots cling stamp and spritzed water on it and palced it onto the background. In the picture it is hard to see but you get the dots pattern after drying.
I stamped the frog and colored it and cut it. Diecut a circle out of vellum and a strip out of black cardstock after white heatembossing the sentiment.
For some extra interest I used some green colored vellum underneath the sentimentstrip.
Stamps;
Cling stamps;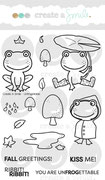 Did you see the shipping rates? and please visit us on Facebook, instagram and on the blog, you will find so much inspiration over there.
That's it for today I hope you like it and have a great week, see you next week with more inspiration.
Hugs Anja