Hi there it's Anja again at the beginning of this new week.
I hope I have some inspiration for you today.
If you read yesterday's post from Christine you already know we have a new facebook group called,
create a smile friends & family
, not only to connect with you but also to be inspired by you. We have already placed our first inspiration picture and would love to see what you do with it.
So my card for today is inspired by this picture at least the colors are.
I love the inlaid diecutting technique reminds me of puzzles.
So I combined this technique with the colors and some stamping, masking and embossing.
First I sponged some differeent distress ink colors on some watercolor paper. After it was completely dry I masked the envelopstamp three times and white heat embossed it.
I took the frame die and diecut it several times making sure that I kept all the little pieces to place them back in my background.
Now I had to puzzle the pieces by diecutting them from white cardstock and placing everything back.
I stamped the images and the sentiment on some paper and fuzzy cut it. Colored the images in the same colors as the distress ink and adhered them to the card.
Rounded the lower corners of the card and placed some enamel stickers to put it all together.
Ofcourse I also used some glitter on the snake and the hearts to finish it.
Stamps;
Happy Mail;
Cool cuts (dies)
Magical frame;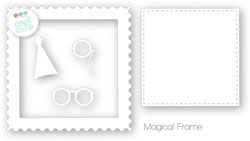 Enamel stickers;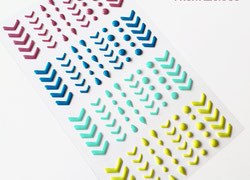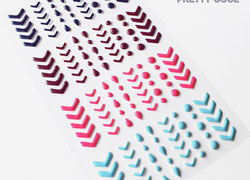 Make sure that your watercolored background is completely dry before you heat emboss images. You can speed up the procces by using your heatgun and heat it also from behind to avoid warping of your paper.
Test if your paper is completely dry before you stamp and heat emboss. Use a antistatic tool and place some embossingpowder if it doesn't stick your paper is dry enough.
Make sure that you collect all the different diecut pieces of paper when you use the inlaid diecutting technique because you have to put them back again.
We love to connect with you and love to see what you do with our supplies either by linking at the sidebar of the blog but as we mentioned before you can now join us over at our facebook group
create a smile friends & family,
love to "see"you there.
Have a great week;
Anja