Hi there, I hope you like the welcome baby stampset as much as I do because I have another card to share with you using this stampset.
This welcome baby stampset is one of my favorites there are so many nice little stamps you can use to build your card and no card will be the same.
I once again started with a topfolded white cardbase.
Used the double stitched rectangle dieset for my vellum and to build a frame out of white cardstock.
I also gave the vellum showing through the frame some extra interest with an embossingfolder.
I stamped the different images on copic friendly cardstock and on some patterned paper.
Cut everything leaving a nice white outline and started building the card.
Stamp;
Welcome baby;
Cool cuts ( dies);
Double stitched rectangle;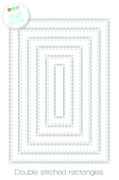 There are stamps on sale over at the shop so be sure to grab some and start creating.
Have a great week;
Hugs Anja