Hi there, we are already in another new month, how times flies don't you agree?
Well as long as we can create it doesn't matter.
So for today another new card with the lovely supplies by Create A Smile.
Last week I showed you the paperpiecing technique today I would like to focuse on inlaid diecutting.
Since Create A Smile has some awesome dies I would like to use them for this technique.
First you have to figure out how you would like do your diecutting. Start with the die that is on top for this card it's the left little bannerdie. Then diecut the big banner and the banner on the right.
Now place all the banners back and diecut the birthday word.
After arranging your layout comes the fun part now you do the same with some patterned papers.
For the inlaid technique you place some doublesided tape at the back of the negative from your diecutting and you can now easily "puzzle" the different pieces together.
To make the word pop I diecut the word birthday several times from white cardstock and stacked it up. To give it more interest I adhered the last patterned paperword birthday slightly offset.
Stamped the hearts beside the diecutting and spattered some ink.
The snail is white heat embossed on some vellum, fuzzy cut and I slightly colored it at the back with some copics.
Place some enamel stickers and round two opposite corners.
Adhere the panel to a topfolded white cardbase.
Stamps;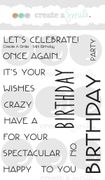 Cool cuts ( dies);
Enamel stickers;
Sending Sunshine
When you diecut the different dies make sure you use some paintertape or washi-tape to fixed your dies. To remopve the tape slightly heat it with your heattool and carefully remove it under an angle.
You can also rub your tape on your cloth before using to make it less sticky.
Make sure you collect all your little diecut pieces in a small bowl so nothing gets lost and you may need to use the little parts for the inlaid technique.
As Anika already showed you you can highlight your diecut word by using black cardstock but you can also like I did in this card place your final word slightly offset.
We love to see what you do with all those nice dies so please it's another month so you can upload your projects on the sidebar.
Have a great week,
Hugs Anja