Hi there I hope you are thrilled by the new release from last Friday and maybe ordered some of the goodies already. Here is some more inspiration for you.
I wanted to try the ghost stamping technique with alcohol inks and archival ink. And the new stamps are perfect for this technique don't you think so?
I went with a horizontal cardbase and diecut a panel out of yupo paper specially for alcolhol inks. Used three colors of alcohol ink to spread over my paper and a paintbrush and a straw to let the alcohol ink run over the paper. Once I was satisfied I let the paper dry and stamped the image using archival ink and immediately wiped the ink of with a cloth. Stamped the little fairy and colored it with copics and cut it. Stamped the sentiment on some black cardstock and white heat embossed it.
finished the card of with some glitter drops from nuvo.
Stamps;
Superpower
and
swooshes.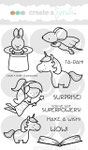 Cool cuts (dies);
Double stitched rectangles.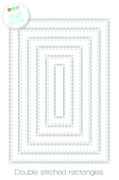 Make sure you visit the shop and the blog for much more inspiration and please join in the fun in our challenges you might get your hands on some of the great supplies.
Have a great week;
Hugs Anja