Hi there it's Anja again on this Monday.
I hope you are doing well all together and are ready to get inspired.
Maybe you have noticed we have a new challenge for the month January and it's all about CUTE.
Well I don't know about you but i think most of the stamps from create a smile are cute, aren't they?
There are already some great cards made with this new theme and maybe you have already tried one so for today I wanted to make a cute card too.
I first sponged the background using the stencil and some distress ink.
Then I stamped the images onto copic friendly paper using the masking technique and building up my image.
Colored the whole image and fuzzy cut it.
Diecut two circles one out of some vellum and one out of white paper. I randomly stamped the zzzzzz at the white circle.
I adhered the whole onto the cardbase and diecut some glasses out of white cardstock.
To finish of the card I placed some waterdroplets rounde the corners and used letterstickers for the sentiment.
Stamps;
Comfy,
served up
,
doctor's helpers
,
big time
.
Alphabeth
stickers;
Cool cuts (dies)
Magical frame;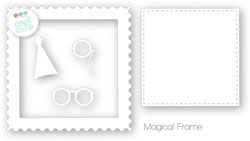 We love to see what you come up with for this challenge so join in the fun, please!!!!!!
Have a great week,
Anja