Hi there! Happy Sunday everyone. Chris here with a special frog card to share with you.
I wanted to try this "water-reflection-technique" for a long time, and today the time has come.
first I stamped the images on Bristol Paper
for the second frog (in the water) I used the "mirror stamping technique" - for this technique you must stamp the image first on a "mirror stamping tool" or an acetate/vellum and then transfer on paper - the mirror stamping don´t have to be perfect because it´s just a "reflection"

then masked only the upper frog

the Background blended with Distress Oxides Inks (squeezed lemonade, tumbled glass, broken china) and a raindrop stencil

colored the images (with Watercolor Pens)

cut out a circle for the upper panel, draw some stiched lines with a pen and glued down the panel with 3d Foam tape.
The frog in the water don´t have to be stamped perfect - because it´s just a reflection. Mirror stamping gives you a lot of options - not only with water reflections. Maybe you give it a try. I definitely will try it again.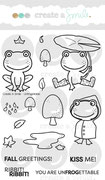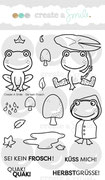 ... this special and awesome seagull will be free with every purchase of 30 Euro or more.
(as long as supplies last)
Thank you so much for stopping by. Wishing you all: SUNSHINE ...
Chris