For today I have another christmascard for you, since we are heading for Christmas and we can't have enough cards can we?
I am so sorry but it's again another card where I used the pouch from the snowdance kit I already told you you can make lots of stuff out of it. For this card I created a shaker tag/ pouch by using a photosleeves fuse and a die from create a smile.
I started with a topfolded white cardbase and for the background I used the wave of snowflakes stencil and some white embossingpaste.
I took the biggest size from the stacked pierced banner die set and place it on a double piece of the pouch. I used the photosleeves fuse from we r memorykeepers to trace around the die and melting it into a pouch/bag. I left the top open so I could place a piece of patterned paper in it and some sequins. After that I melted the top and adhered it to the card. tied a piece of twine around the pouch. Colored the reindeer with copics and paperpieced the sweater with some patterned paper the way Christine did and gave it some shading with a copic marker. I placed Rudolph onto a ski just the way Francine did in her video.
Snowdance kit;
Stamps;
Cool Buddies;
Snowdance pouch;
Stencil ;
wave of snowflakes;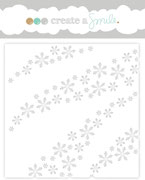 Cool cuts;
stacked pierced banners;
Let the embossingpaste dry some time before you assemble your card otherwise you will destroy the pattern ask me why I know.......
You can use the stencil in many different ways, ink it up, use embossingpaste or even color with it.
When you use a fuse to make the pouch make sure you heat it up at least 10 minutes otherwise it won't melt the plastic.