Hi folks I hope you are doing well and I wish you a very happy week with lots of creativity.
To help you get started I have another card for you to get inspired.
I wanted to use the lovely mandala clingstamp in combination with the handwritten sentiment.
So I stamped the mandala and white heat embossed it and made two cards but they are slightly different.
I started by stamping the cling mandala stamp partial in the opposite corners from a topfolded cardbase. I white heat embossed the images and used some distress ink to make that lovely background.
For the card on the left I continued by stamping the sentiment first in gold ink and secondly in black ink. I stamped the second time a little offset thus to make a shadow for my stamping.
For the card on the right I placed a couple of printpapers onto the cardbase and gently ironed the card to get rid of the embossingpowder. After this I gently removed the paper and stamped the sentiment in gold ink and slightly offset in black ink.
Stamps;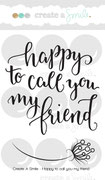 If you want to have a smoother card you can easily get rid of your embossingpowder by ironing it.
To get some extra interest with your stamping try the method mentioned above. First stamp your sentiment in a light ink ( her gold) and repeat the stamping slightly offset to gain a shadow.
We love to see what you create so please show us your projects.
Have a great week and see you next time,
Hugs Anja