Hi there it's me again with two more eastercards.
Since it will be eastern in a couple of days I had to make some more eastercards to send to friends.
And ofcourse I once again used the lovely eggstraordinairy egghunt stamps.
For this first card I used a topfolded white cardbase and diecut the lower third part from the frontpanel.
Adhered some patterned paper at the inside of the card.
I stamped and masked two bunny's and fuzzy cut them, colored them with copics.
I diecut the monocle with the die out of pink cardstock and stamped the little bow and colored it. Adhered them onto the bunny's and smooched some distress ink at the background.
Adhered the bunny's to the cardbase and rounded the corners.
For the second card I used the negative paper from the fuzzy cut bunny and I drew an egg form around it.
Used a topfolded cardbase and white heatembossed the random stamped sentiments.
Adhered the egg to the cardbase and gave the bunny a tail.
Rounded the corners of the card to give it some extra interest.
Stamps;
Eggstraordinairy egghunt, Welcome baby and aus dem Hut gezaubert.
Cool cuts ( dies);
Magical frame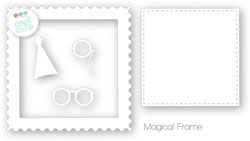 We love to see what you come up with and join in the fun in our monthly challenge.
The store is closed for the moment but will be reopened May the 7th so stay tuned.
Have a great easter weekend and a great week.
Hugs Anja