Hi there I hope you are all doing well? Did you see the great new release in the shop?
For today I would like to share another card with you with some older stamps.
I wanted to try a technique I found on the internet. Create a panel with stamps, color them and place some dies behind the panel.
Ofcourse there are lots of stamps over at the create a smile store you can use for this technique.
I started with a topfolded white cardbase.
With the rectangle die I created a panel out of some white cardstock.
Stamped the image at random and for the flowercard I did some masking.
I colored the images and also the background to make the images pop.
I diecut some flowers and a snowflake out of white cardstock to place behind the panel.
Adhered the dies onto the cardbase and the panel with some foamtape to give it more dimension.
I made another card using the flowers.
Stamps;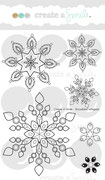 Cool cuts ( dies);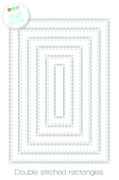 A pretty simple technique to strech your dies can be used here to make your rectangle bigger.
I used the third smallest rectangle and only diecut it halfway by hanging the die and you paper outside your cuttingplates before running through your machine.
Place your die back in your already died piece and run it again through your machine now leave the other side hanging outside your plates.
Make sure you visit the store to see the new release and find all the inspiration made by the team for these new stamps. Let us know what you think and please show us your creations.